Apple Crumble!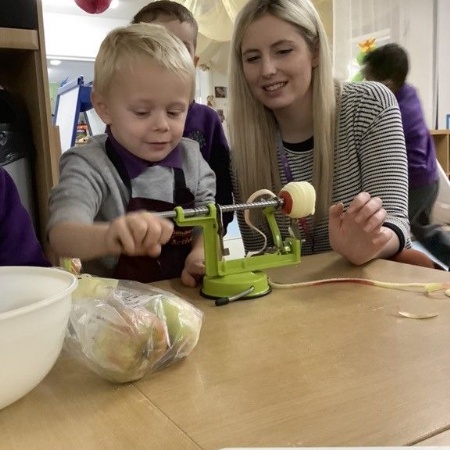 Children have been very busy baking a delicious apple crumble this week.
First, we predicted what ingredients we might need, drawing on the children's previous baking experiences. We then looked closely at the recipe's ingredients list to see whether we were correct. Next we looked at the 'method' or 'instructions'.
Preparing the apples:
Children used a rotary apple corer to peel and slice the apples. This was a lot harder than it looked as the lever required a great amount of hand-eye coordination. The rotary movement also gave our shoulder pivot muscles a great work-out! We then took turns pinching and sprinkling a small amount of sugar onto the apples.
Preparing the crumble topping:
Children took turns pouring the flour and sugar into the mixing bowl. We looked closely at the digital weighing scales, matching the number on the recipe to the number displayed as we poured. We then measured 30g of butter into the mixture.
Children pinched, rubbed and mashed the mixture between their hands until it turned into a crumbly mixture. This provided a great opportunity for children to verbalise the feeling and texture of the mixture, as well as predicting and discussing changes as the ingredients combine.
Finally it was time to sprinkle the topping onto the apples.
Again children pinched the mixture and sprinkled it on top. This was a great workout for their fine-motor muscles (the small muscles within their fingers). Building up strength in both their fingers and shoulders is crucial for early writing. Strong finger muscles help children to grip their pencil correctly and full shoulder movement will help them to move their pencil across the page.
All children sat together to taste our delicious crumble once it had cooled down.