Dog Safety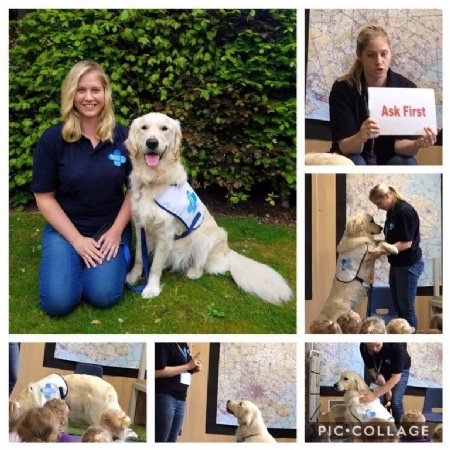 To help us keep safe and get ready for our Park Walks we had a very special visitor.
We were so lucky to have a visit from a lovely educational dog called Apollo with his owner Caroline. They were from the Blue Cross.
Caroline told us that she had had Apollo since he was a puppy, just 8 weeks old. He's 4 now, and as old as some of us!
She asked us if we would like to see how tall he was, so she gestured to him to stand on his back legs and he reached right up to her shoulders!
Caroline told us some very useful rules to remember if we see a dog or other animals when we are out and about.
-Don't ever wake a dog because he/she might get angry
-Don't go near a mother with babies
-Don't go in a garden if a dog is running around loose
-Don't surprise old dogs because they don't want to be frightened
-Don't go near a dog when it is eating
She said the most important thing to remember today is the '3 C's' Always do these first before you stroke a dog.
- Check with owner
- Call the dog if the owner says you can
- Count to 3, give 3 strokes. Just on the shoulder and the not head
Everyone listened so well and those that chose to have a stroke remembered to ask first!
Caroline even said that we were the best behaved group she has ever talked to! Well done Wyndham Park!