Caterpillars and butterflies!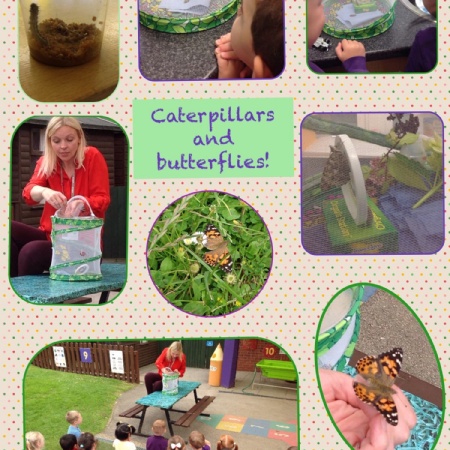 This term we have been learning about the lifecycle of a butterfly!
Each class has had their own pot of caterpillars to look after. We have watched the tiny caterpillars eat all of the special food and grow into long furry caterpillars! Then we saw each of them crawl to the top of the pot to make their transformation into a chrysalis. We waited patiently for a couple of weeks while the caterpillars remained in their chrysalides, and then....we saw them hatch into beautiful butterflies!!!! It was very exciting to watch! After a few days, the butterflies started to fly around their special net and we knew they were ready to be set free. We all went out into the nursery garden together and waved goodbye to each butterfly as they flew away! Some of them even stayed around for a while on Helen's finger!!! Goodbye little butterflies, we will miss you!!!