Divali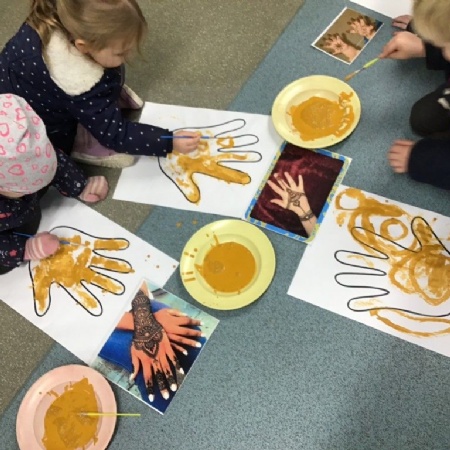 Last week in the Adventurers Room we found out all about the Hindu five day festival of light, Diwali.
This year it began on Thursday 12th and finished on the 14th. We have watched two fantastic clips on CBeebies 'Let's Celebrate.' In these clips we met a little girl and her family who showed us how they prepare and celebrate Diwali with their families. You can watch it again here
https://www.bbc.co.uk/cbeebies/watch/lets-celebrate-diwali
We learned about her families traditions and tried to think of any other celebrations where we might have fireworks, sweet treats, special family meals, candles and decorations. We then looked at a selection of images and objects to remind us of what we saw and help us to remember some of the new words we learnt. Everyone had different things that they were interested in and wanted to talk about. Some of us liked the rangoli patterns, some of us liked the beautiful sparkly sari, some of us were interested in the lights and divas while others wanted to hear the music again and again!
As part of our continued mark making experiences we had a go and decorating large hand templates, remembering the beautiful patterns made with the Henna that we saw on the CBeebies clips. We had to concentrate and make deliberate movements to control the thin bristled brushes to create our mendhi drawings. We also looked carefully at our own hands, noticing the all the parts, counting our fingers, fingernails, and looking at size and skin colour.
O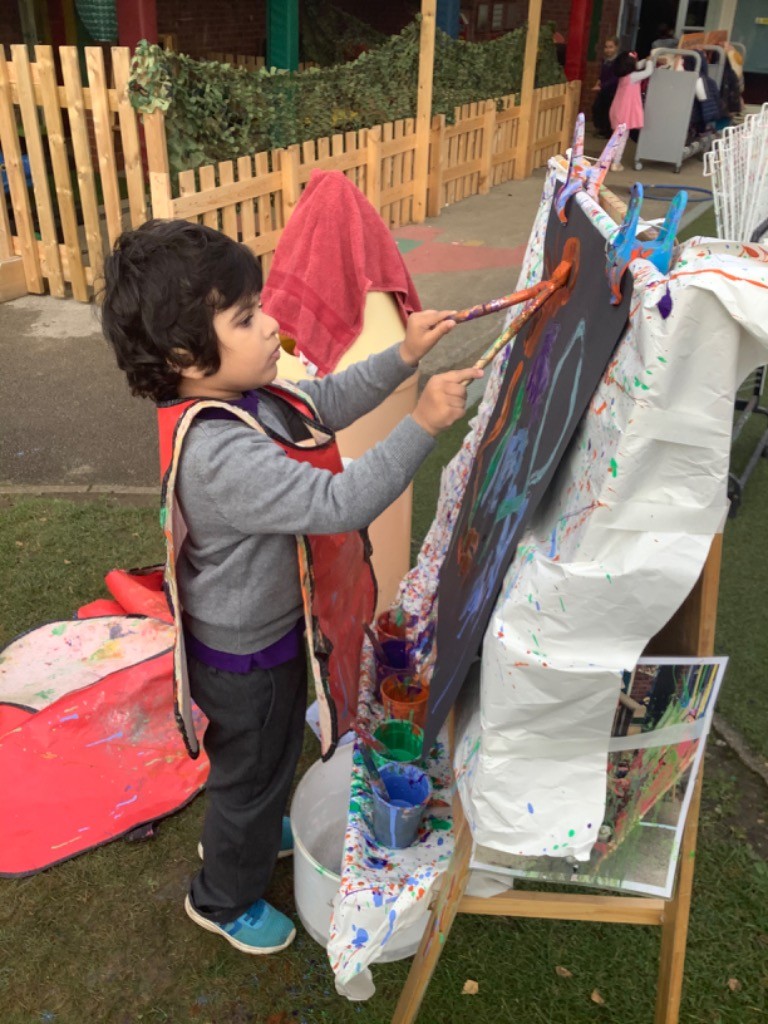 ur outdoor play shed is now set up as a dark(ish) den, so this week we turned on lights and decorated it for Diwali. The children were given the opportunity to make divas and place battery powered tea lights inside, as well as have a go at creating Rangoli patterns at the entrance to the shed.
Story of the week: This week we heard the Diwali story that tells of a Princess called Sita and a Prince called Rama (It can also been seen via the above link.) Try asking your child what they remember about this story.
Snack: This week alongside our usual healthy snacks we tried some traditional food and drink often eaten during Diwali. We tried some wholemeal Chapatti and took on Rebecca's challenge to think of lots of words to describe it. We thought of round, circle, flat, brown, crunchy, crumbly, tasty, salty and delicious. Why not have a try at doing this challenge with other foods at meal times too. We also tried a new drink called Mango Lassi. First we tried the ingredients before they were all mixed.
Why not try making tasty mango lassi at home with this recipe (written below)
Ingredients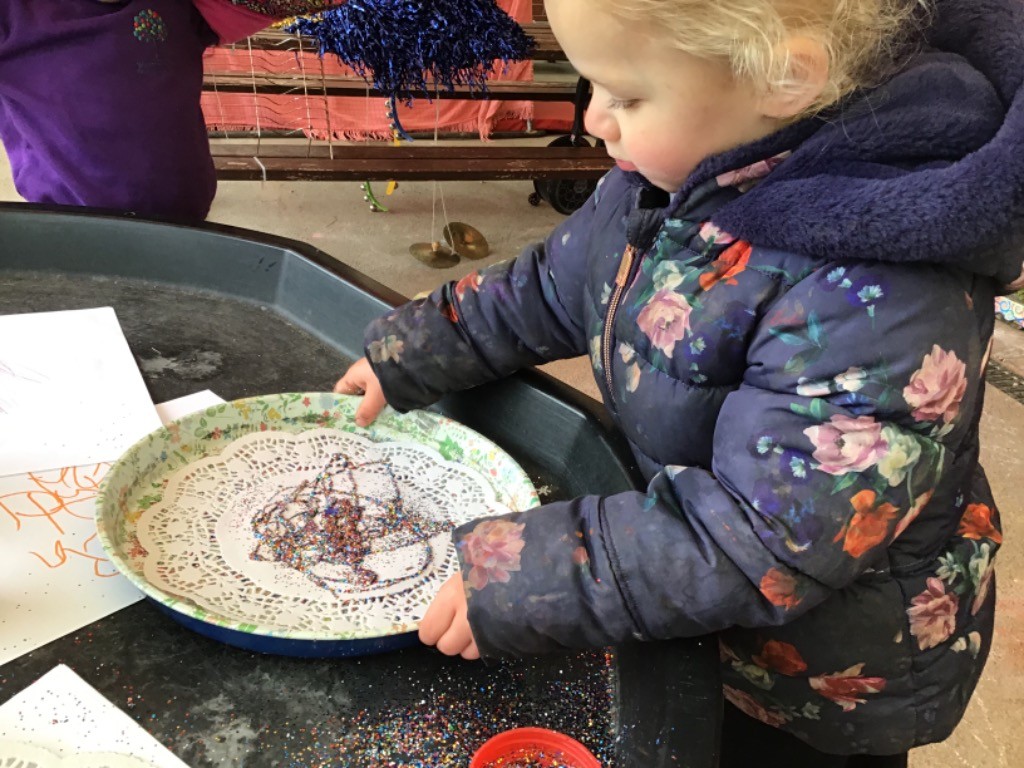 250 mL of plain yoghurt
130 mL of semi-skimmed milk
3 ripe fresh mangoes
4 tsps of caster sugar
Method
Hold the mango on its side and slice downwards to remove one side of the mango. The knife should slide past the stone inside the mango. Repeat this around the mango. Peel the skin off and dice the mango into cubes. Add the mango cubes, milk, yoghurt and sugar into a blender. Blend the ingredients until completely smooth. Pour into individual glasses and serve.
It was also National Nursery Rhyme week this week, so we spent every welcome time choosing and singing our favourite nursery rhymes. Research shows that if children know 8 Nursery rhymes by the time they are 4 they are usually among the best readers and spellers in their class by the time they are 8, so keeping on singing everyone!