ScrumKids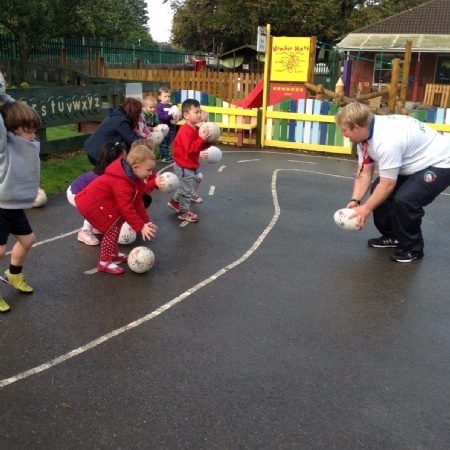 This week the children had their first session of Scrum Kids!
Coach James came into nursery to run the sessions which give the children a chance to learn some rugby skills! Scrum kids is also a fantastic way to get some exercise, build up gross motor skills and learn about being a team!
First there was a warm up where the children 'flew' to South Africa and went running through the jungle looking for different animals, they had to make sure they didn't crash into anyone while they were running around!
Then Coach James gave everyone a rugby ball and taught them how to score a try. After practising for a few minutes, the children all took part in the "5 minute try challenge!" Where they had to run to a hoop, score a try, run back and repeat as many times as possible in 5 minutes!
Next, the children learnt how to kick a rugby ball. They all loved seeing how high and far they could kick the balls! Afterwards they put all of the balls onto a parachute and had to work together to shake it until all of the balls had bounced off!
Finally, the children lined up and walked through a tunnel of adults as everyone cheered and applauded each other! We had some very tired children by then end of the first session! We can't wait to see what other skills we are going to learn over the next nine weeks!!!!