Chicks!!!!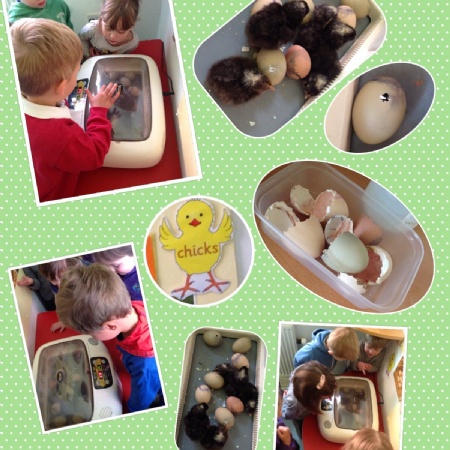 Our nursery eggs have started hatching! We currently have 5 chicks out and 7 more eggs with cracks appearing!
The children (and grown ups!) have been so excited to see the new chicks! It has created a great opportunity for developing the children's communication skills and knowledge of the world, as they learn new vocabulary related to hatching and discuss what they have observed.
"They're hatching!"
"They're so cute!"
"I am very pleased they have hatched"
"Maybe sometimes the other chicks like to help get the shell off the others"
"Look!!! Them crackings!!!"
"The egg's wiggling!"
"A little bit has cracked there...I think the chick just poked it with their nose"
"Listen! I heard them cheeping!"
"They're all black chicks!"
"That one's definitely cracking!"
"I wish my sister could see this! Do you wish you had baby chicks? I do!"
"They're not fluffy yet, all their feathers are down still"
"They've got to stay in the incubator for a little bit longer...they're a bit little still!"