Bonfire night!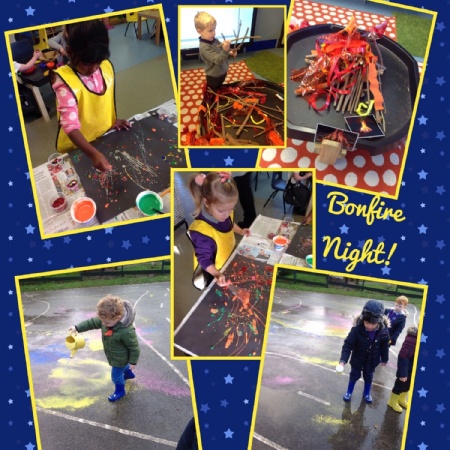 We have been taking part in lots of exciting firework themed activities this week to celebrate Bonfire Night!
We had a go at some splatter painting to make firework pictures, the children dipped their brushes in some watery paint and flicked it over the black paper, then sprinkled the paint with glitter and sequins! Our pictures looked just like fireworks shooting up into the night sky!
In one of the tough spots, we had a collection of sticks and coloured paper strips. The children used the sticks to build their own bonfire! They added the different coloured paper to look like flames on the fire!
In the outdoor area, the children had watering cans which they poured onto the concrete to make rivers and puddles. Then they used shakers to sprinkle different coloured powder paint over the water and watched the patterns it made as it mixed into the puddles!
What a lot of exciting activities!