Pancake Day!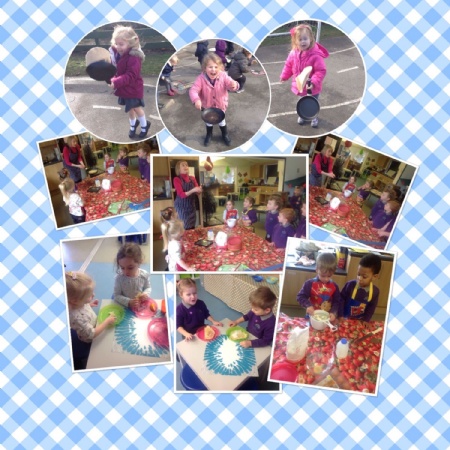 We had lots of fun on Pancake Day!
We thought the best way to celebrate pancake day would be to make pancakes!!! Each room had a cooking station open all day and the children came in small groups to help measure and mix the ingredients, following the recipe carefully. Then they watched as the mixture was poured into the frying pan and cooked, it was exciting to watch the grown ups try and flip the pancakes in the air! The children thought it would be really funny if the pancakes got stuck to the ceiling, but luckily, we managed to keep them in the pan! 😃 When the pancakes were cooked, the children took turns to take their pancake over to the 'snack cafe' and choose the toppings they would like. We had a choice of sugar, sprinkles, lemon or orange wedges for squeezing, syrup, chocolate sauce or honey! Then they sat at the snack tables to taste the pancake! They were yummy!
Outside, the children had a go at flipping their own 'pancakes', using circles of fabric, frying pans or tennis rackets!!! 😄 This was lots of fun and a bit tricky', but it gave us a great chance to practice our hand-eye co-ordination skills and gross motor development!
What an exciting day! We can hardly wait for next pancake day! 😃