Our vegetable garden!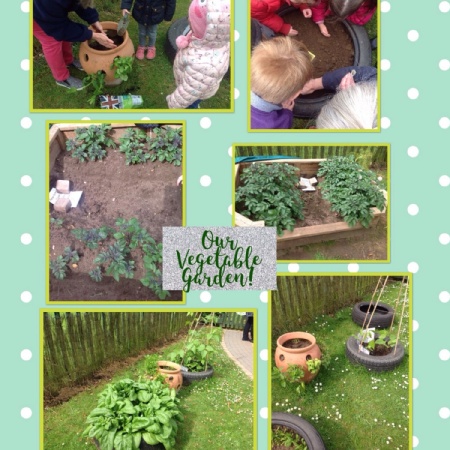 Look what we've been growing!
In the spring we started our vegetable patch in the nursery garden! We planted potatoes, spinach, carrots, herbs, and runner beans. Some of the children helped to plant the vegetables, they prepped the soil, planted the seeds and watered them. We all learned what was needed to help our vegetables grow....sunlight, water and soil!
Over the next few weeks, the vegetables grew and grew and grew! The children have been very helpful watering the plants on hot days, and making sure they weren't picked too soon!
It has been very exciting seeing the growth of the vegetables, our spinach has almost taken over the whole tub! This week, on the snack table the children will get to taste the spinach. Then hopefully we will have some carrots, beans and potatoes to dig up!